TOKAS-Emerging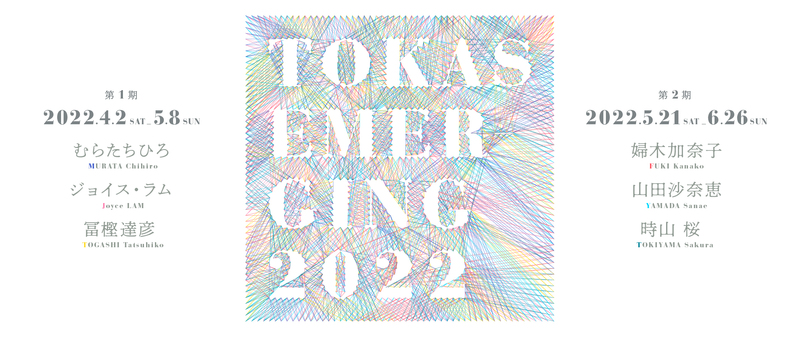 Implemented since the establishment of Tokyo Arts and Space (TOKAS) in 2001 in accordance with the institution's aim to support young artists, "TOKAS-Emerging" is a program that has been targeting Japanese resident artists aged 35 or younger, and offering selected artists opportunities to exhibit their works.
"TOKAS-Emerging 2022" features six artists that were chosen through screenings from a total of 142 applications from across Japan. Held in two separate periods between April and June 2022, these exhibitions of works by up-and-coming artists cover a wide range of formats, including two and three-dimensional artworks, video art, installations, etc. During both periods, the exhibiting artists will also appear in talk sessions together with members of the screening committee.

Information
Title
TOKAS-Emerging 2022

Date
Part 1: 2022/4/2 (Sat)- 5/8 (Sun)
Part 2: 2022/5/21 (Sat) - 6/26 (Sun) 

Time
11:00-19:00

Closed

4/4, 4/11, 4/18, 4/25, 5/2, 5/9-5/20, 5/23, 5/30, 6/6, 6/13, 6/20

Venue
Tokyo Arts and Space Hongo

Artists

Part 1:MURATA Chihiro, Joyce LAM, TOGASHI Tatsuhiko
Part 2:FUKI Kanako, YAMADA Sanae, TOKIYAMA Sakura

Organizer
Tokyo Arts and Space, Museum of Contemporary Art Tokyo, Tokyo Metropolitan Foundation for History and Culture
※Programs are subject to change due to unforeseen circumstances.
※Details of the event will be updated on TOKAS website.
Part 1: 2022/4/2 (Sat) - 5/8 (Sun)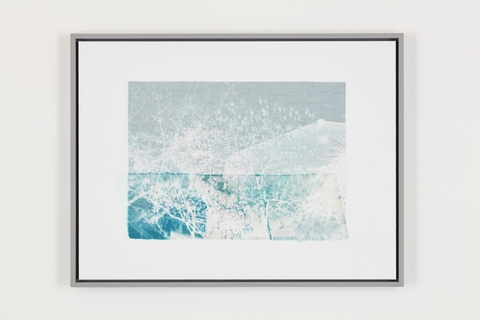 MURATA Chihiro
"internal works / kanata-no ka"
Murata focuses on the application of dyeing techniques, and on the phenomenon of dyeing/coloring itself. In her works, created by her own unique methods, the artist confronts the temporal and spatial transitions that are involved in the processes of dyeing and weaving. Themed around past memories that we are unable to grasp entirely no matter how hard we try to pull them together, the works shown at this exhibition describe by way of gradually penetrating colors and stains the transitions of our own personal "past and present."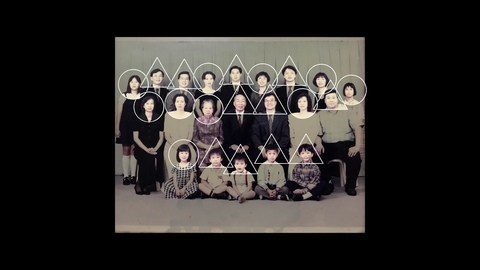 Joyce LAM
"On Family"
Lam is an artist who previously lived in Hong Kong, Canada, the UK and Japan. In search of a place she belongs to, her recent creative work explores the definition of "family" as the basic social unit of society. This exhibition is a video installation of a lecture performance in which she discusses family as a system, by incorporating genealogical tree structures that are defined by different nations and organizations.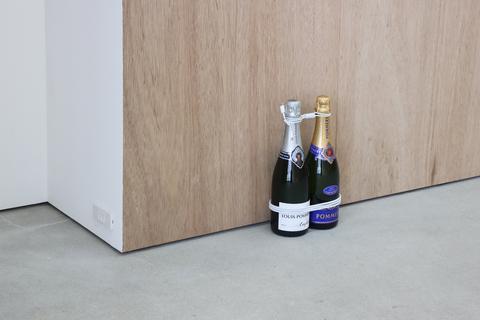 TOGASHI Tatsuhiko
"Eat Your School, Don't Do Vegetable"

An artist whose regular occupation involves cooking, Togashi uses the term "taste" to describe that special something that essentially characterizes a work of art. At this exhibition, he presents an installation that comprises five three-dimensional individual works. Created based on various research, the exhibit explores the question what kinds of feelings and thoughts the practice of "tasting" artworks and the world at large inspires in us.

Part 2: 2022/5/21 (Sat) - 6/26 (Sun)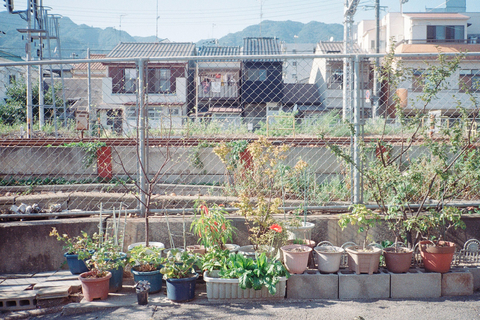 FUKI Kanako
"Stranger"

Wearing concrete objects on her body, installing them in outdoor spaces, or taking products out of the making process and finishing them according to her own ideas, is how Fuki interposes and relates artworks and creative processes within society. At this exhibition, she shows a series of photographs taken with the idea in mind to define the "position" of her work in her immediate environment.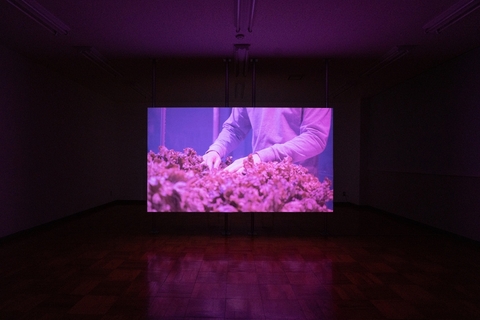 YAMADA Sanae
"A Fire on My Palm"

Through the creation of video works based on various field work and other research, Yamada explores the relationships that exist between environments and their inhabitants, examining the way in which the body and mind are positioned within their surroundings. In the work shown at this exhibition, for which she traveled to volcanic areas on Izu Oshima Island and in Iceland, the artist discusses aspects of living with nature as something that involves the danger of causing damage, including visiting that very danger as a tourist attraction.

TOKIYAMA Sakura
"A reflecting river and a small insect flying at high speed, a song sung by the riverside on a black-and-white morning"

Tokiyama's work revolves around the question what we gain through our various interactions with the environments that surround us. She focuses on sensing what existing objects contain on their inside, rather than their outer shapes, with the ultimate goal to relate these things to herself. The idea for this exhibition was to inspire visitors to connect the narratives they derive from the individual works, combining paintings and three-dimensional works, to their own memories, resulting in accumulations of different spatiotemporal relationships and varied density.

Installation View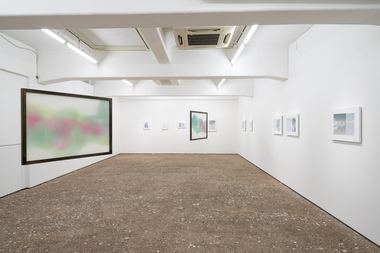 MURATA Chihiro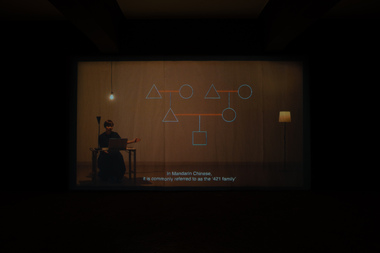 Joyce LAM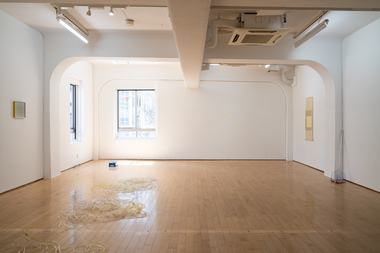 TOGASHI Tatsuhiko
FUKI Kanako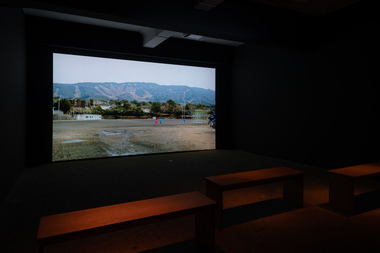 YAMADA Sanae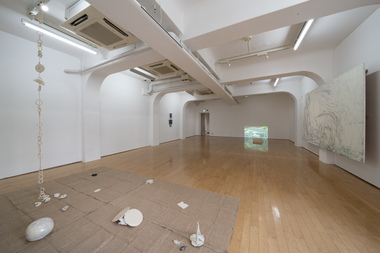 TOKIYAMA Sakura
Catalogs
To download the catalogs of "TOKAS-Emerging 2022," please click here.
Related Event
Part 1: Artist Talk
| | |
| --- | --- |
| Date | 2022/4/2 (Sat) 16:30 - 18:00 |
| Artists | MURATA Chihiro, Joyce LAM, TOGASHI Tatsuhiko |
| Guest | SANBONMATSU Tomoyo (Curator, The Museum of Modern Art, Kamakura & Hayama) |
| Venue | Tokyo Arts and Space Hongo |
| Admission | Free |
| Language | Japanese |
| Booking | Please fill out the Booking Form. |
Part 2: Artist Talk
| | |
| --- | --- |
| Date | 2022/5/21 (Sat) 16:30 - 18:00 |
| Artists | FUKI Kanako, YAMADA Sanae, TOKIYAMA Sakura |
| Guest | HASEGAWA Arata (Independent curator) |
| Venue | Tokyo Arts and Space Hongo |
| Admission | Free |
| Language | Japanese |
| Booking | Please fill out the Booking Form. |
Participating Creator
MURATA Chihiro
Joyce LAM
TOGASHI Tatsuhiko
FUKI Kanako
YAMADA Sanae
TOKIYAMA Sakura