ACT(Artists Contemporary TOKAS)
Approach to Alternative Images
ACT(Artists Contemporary TOKAS) Vol. 4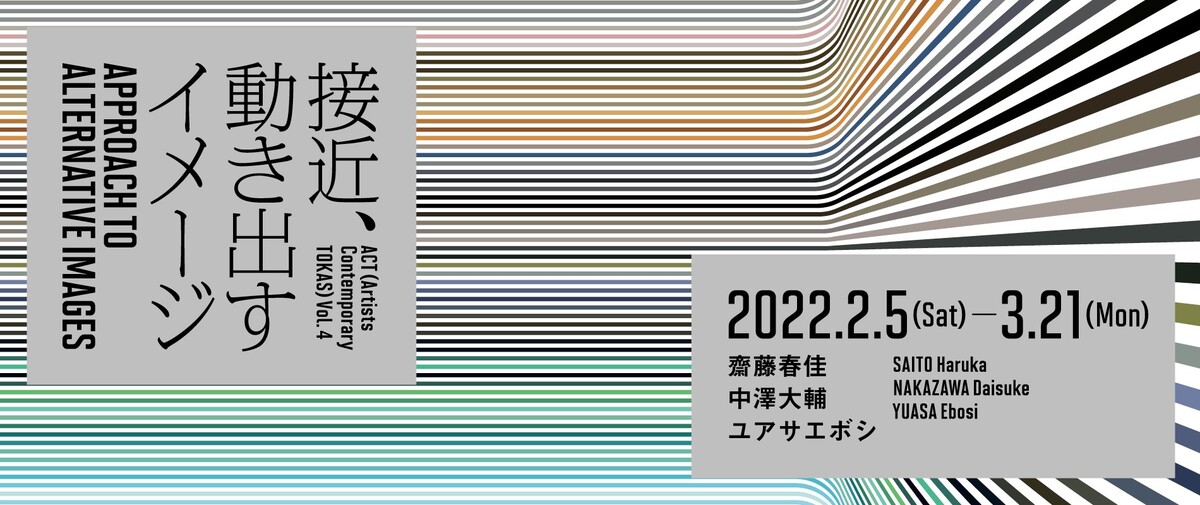 Tokyo Arts and Space (TOKAS) has been supporting the activities of artists, continuously and at various stages in their careers, through open call exhibitions, special showcases, and international exchange programs. The ACT exhibitions, launched in 2018 as a series focusing mainly on artists who have previously participated in other TOKAS programs, introduce noteworthy efforts by up-and-coming artists. Shown at this forth ACT exhibition are works by Saito Haruka, a creator of paintings and installations that incorporate elements of time and space; Nakazawa Daisuke, who is active as a "narrative explorer" and designer; and Yuasa Ebosi, an artist whose work revolves all around a fictitious painter.

The three featured artists attempt in their works to extend certain shared times and spaces, by introducing elements of imagination into events that actually occurred in the past. In the exhibition, Saito and Nakazawa both present new works that were inspired by the history of the TOKAS Hongo building, which was constructed in 1928, while Yuasa presents paintings by a fictitious artist of that time. By linking past events to the present, these works expose the structure of the human society that we are part of, while at once presenting alternative perspectives on the world. Unfolding on the stage of the TOKAS Hongo building, which has itself seen a variety of human individuals come and go as time moved on from the Showa to the Reiwa era, the exhibition aims to inspire visitors to think again about what they see here and now, by connecting to things that once existed there and then.

Information
Title
ACT (Artists Contemporary TOKAS) Vol. 4
"Approach to Alternative Images"
Date
2022/2/5 (Sat) - 2022/3/21 (Mon)

Time

11:00-19:00

Closed
2/7, 2/14, 2/21, 2/28, 3/7, 3/14

Artist
SAITO Haruka
NAKAZAWA Daisuke
YUASA Ebosi

Admission
Free
Organizer
Tokyo Arts and Space, Museum of Contemporary Art Tokyo, Tokyo Metropolitan Foundation for History and Culture

Artist
SAITO Haruka

Born in Nagano in 1988. Lives and works in Tokyo.
Based on her understanding of the concept of time as an aggregation of changes triggered by the kinetic energy of objects, Saito creates paintings and installations in which various events are linked to temporal and spatial structures. Through these works in which she captures things that occurred around her, the artist attempts to manipulate time in the space that the viewer perceives.
In this exhibition, she presents a video installation themed around the transformations of the TOKAS Hongo building, from the delayed construction works to the damage it suffered during the air raids of 1945. Images of the building's temporal and spatial developments through the stages of construction, devastation and restoration, are accompanied by spoken words, and wind generated through the movements of objects.

NAKAZAWA Daisuke

Lives and Works in Tokyo and Kyoto.
Nakazawa collects and reassembles trivial stories from everyday life, involving people and places, societies and customs, employing means of theater, cultural anthropology and architecture. The resulting interactive works encourage viewers to discover alternative views of things.
Inspired by the fact that the TOKAS Hongo building once accommodated the Hongo Employment Agency of Tokyo City, at this exhibition the artist temporarily sets up a present-day incarnation of the Hongo Employment Agency. After watching interviews with people of various professions/positions on the "meaning of work," participants can book "interviews" with "agents" at the employment agency, which inspire them to look back on their own work. Through this opportunity to move back and forth between the past and the present, they can reflect on the meaning of work, including how we are supposed to approach "work" as an activity that we humans dedicate a large portion of our life to.

*Reservations for interviews at the Employment Agency can be made via the TOKAS website from January 12, 15:00 (available only in Japanese). For viewing-only, a reservation is not required.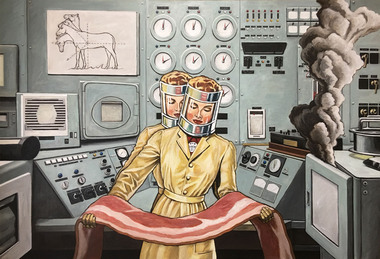 YUASA Ebosi

Born in Chiba in 1983. Lives and works in Chiba.
For his own creative work, the featured artist slips into the role of Yuasa Yebosi (1924-1987), a fictitious painter who was born in the Taisho era. In addition to historical backgrounds of the time, names of real living persons, such as Fukuzawa Ichiro or Yamashita Kikuji, appear in his fabricated biography as an artist who continues to interweave in his works threads of history and artful fiction.
Presented at this exhibition are works that were – allegedly – made by the fictional Yuasa Yebosi in the 1960s-70s. In a style that suggests influences from surrealism, "reportage painting" and American culture, the artist illustrates a history that could have been a reality, as part of his attempt to grasp the present age from various points of view.

Related Event
ACT Vol. 4 "Approach to Alternative Images" Artist Talk
Date
2022/2/5 (Sat) 16:00-17:30
Artists
SAITO Haruka
NAKAZAWA Daisuke
YUASA Ebosi

Venue
Tokyo Arts and Space Hongo
Language
Japanese 

YUASA Ebosi
Shot and edited by HIKAGE Akio
*Subject to alteration according to the state of the COVID-19 infection.
Online Talk Event | Nakazawa Daisuke x Nishimura Yoshiaki
| | |
| --- | --- |
| Date | 2022/3/13 (Sun) 19:00-20:00 |
| Admission | Free |
| Language | Japanese |
About the TOKAS Hongo building
The TOKAS Hongo building was erected in 1928 as part of Tokyo City's reconstruction project after the Great Kanto Earthquake. It initially served as an employment agency, before being transformed into a public vocational guidance center in 1949. Having functioned as a training school for several decades, it finally reopened in 2001 as an art center.
Provided by STUDIO LANDY NOTES(powered by @Matterport)
MACHIDA Yuuichi (Assistant Professor, College of Industrial Technology, Nihon University)

Participating Creator