Other Program
ISLAND VIEW
Why artists focus on islands
Exhibition
Information
Title
ISLAND VIEW
Why artists focus on islands

Date
2014.2.19(Wed) - 2014.3.7(Fri)

Time
9:30 - 17:30*Until 20:00 on February 21 (Fri.)

Admission
Free
Organize

Tokyo Metropolitan Foundation for History and Culture, Tokyo Wonder Site

Cooperation

Tokyo Metropolitan Art Museum, Tokyo Metropolitan Foundation for History and Culture, ART FRONT GALLERY, YUKAI co.,ltd., Kyoto Seika University, VOLCANOISE

Venue
Tokyo Metropolitan Art Museum Gallery B (Ueno Park)

Artist

Masanori Ikeda / Maki Ohkojima / Toshihiro Komatsu / Chiho Hayashi / Kanae Murakami / Kana Yoshida
Tokyo Wonder Site has been continually discovering, nurturing and supporting young artists with "Tokyo Wonder Wall" and the associated "TWS Emerging" exhibition, as well as through various residency programs since 2001. During the ten years of our activity, a large number of artists have grown up, many of whom are today working on the international stage. Observing works made by young artists in recent years, we noticed that quite a few of them have been choosing "island" themes. On his quest for paradise, Paul Gauguin continued to roam around southern islands in order to find that "somewhere else" he was looking for, watching the world with that unanswerable problem on his mind. So why is it that artists are again depicting islands these days? Rather than seeking island paradises, could it be a new kind of approach to future challenges that makes these artists direct their attention toward islands?   Artists painting the islands they were born on; artists working on islands; artists addressing the modalities of islands in our time... While working by different approaches and methods, it seems that each of them has found his or her own new values by depicting islands. In this exhibition, works incorporating those precious "islands" and their respective views worked out by each participating artist mix and reverberate, to eventually create one island landscape. Come and witness these artists' explorations of future issues.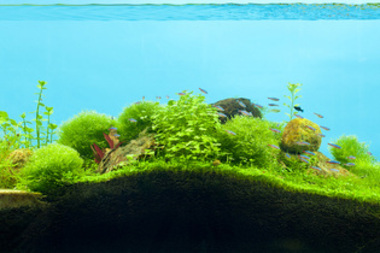 DOUBLE NATURE, 2011, Lambda print, Acrylic photo mounting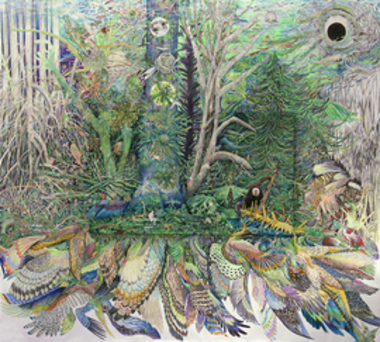 Star Song, 2012, Mural (pencil, colored pencil and crayon on paper, pencil and acrylic on paper mounted on panel)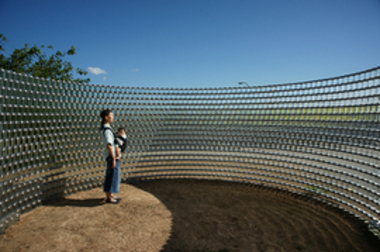 Sea Room, 2013, Seawater sampled from Seto Inland Sea, Approx 3000 glass containers, Silicone, Concrete, Setouchi Triennale 2013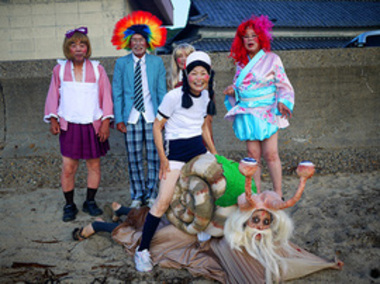 You are beautiful, 2011, Video, Painting, Instalation etc, Shodoshima AIR Art Project, Story of the Island Exhibition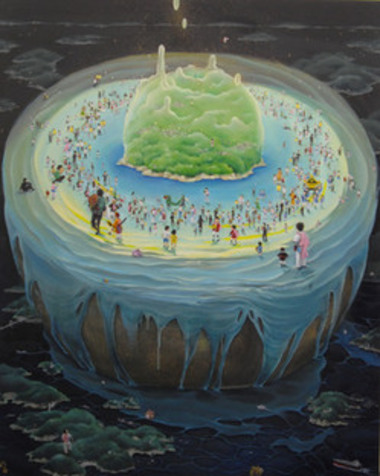 The Center of the hand, 2010, Oil on canvas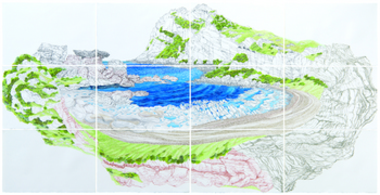 Dizzy Turn of Seongsan Ilchulbong, 2012, Oil pastel, Crayon, Paper
*Please note that the exhibition date (Feb.18 - Mar.7) cited in "ART NEWS TOKYO 2014.1-3" is not correct and it starts from Feb.19 (Wed.). We apologize for any inconvenience this may cause.
Related Event
Opening Ceremony
2014.2.19 (Wed) 15:00-17:00
Artist Talk
2014.3.1 (Sat) 15:00-16:30 
*Available only in Japanese.
Participating Creator
HAYASHI Chiho
IKEDA Masanori
KOMATSU Toshihiro
MURAKAMI Kanae
OHKOJIMA Maki
YOSHIDA Kana