Residency Program
Exchange Residency Program (Japan-based creators sent abroad)

update: 2022.3.9
KOKUBUN Yuko
| | |
| --- | --- |
| Participating Project | Exchange Residency Program (Japan-based creators sent abroad) |
| Activity Based | Japan |
| City / Place stayed | Quebec / Centre Clark |
| Period | 2022.4 - 2022.6 |
Purpose of the residency
Montreal plays an important role as a pioneer in media art and performance events; it accommodates and supports a lot of plays, arts investigation, and painting performance. The city receives a large portion of cultural development subsidies from its province and country, and I believe it is the best platform to learn about performers administration and role, as well as the concrete ways to link with creators. It is a city all surrounded by nature, while it also embraces the development of cultural activities. Here I would love to learn, deepen, and implement about ways to explore and develop ideas.
Plan during the residency
・Research for contemporary circus and urban planning mainly by using archive in TOHU, Visiting a rehearsal studio in TOHU and drawing of some performer.
・Research for Performing Arts such as Montreal Circus Festival and The Robot Festival.
・Research for production companies supporting the entertainment industry in Montreal and Lab tour 
・Research for the majestic nature and the indigenous elements such as folk tales born from it.
・Production: Painting using researched elements. (a shape, a landscape and a story)

Activities during the residency
Seeking to incorporate elements of contemporary circus and other performing arts - space, color, and multicultural fusion - into her paintings, Kokubun has been researching the performing arts by visiting circuses, dance festivals, and circus libraries. Through participation in community sessions of the circus network, visits to company headquarters, and interviews, she deepened her consideration of the relationship between government, citizens and creators in Montreal, and produced drawings for her new works.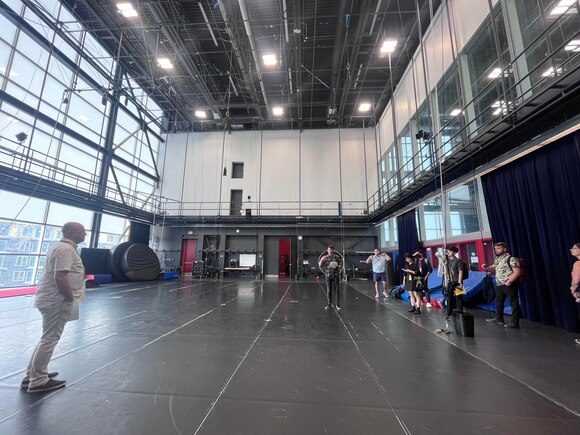 Visit to École Nationale de Cirque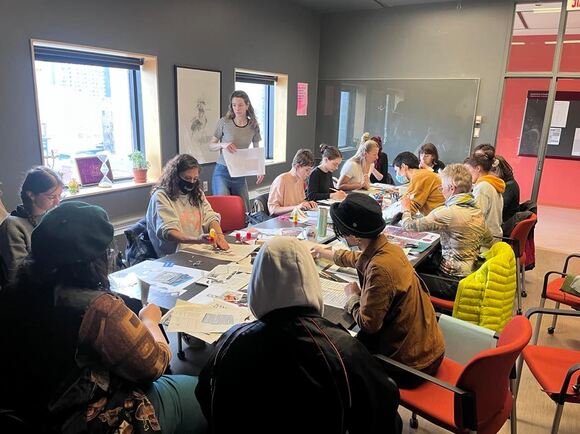 The lithography workshop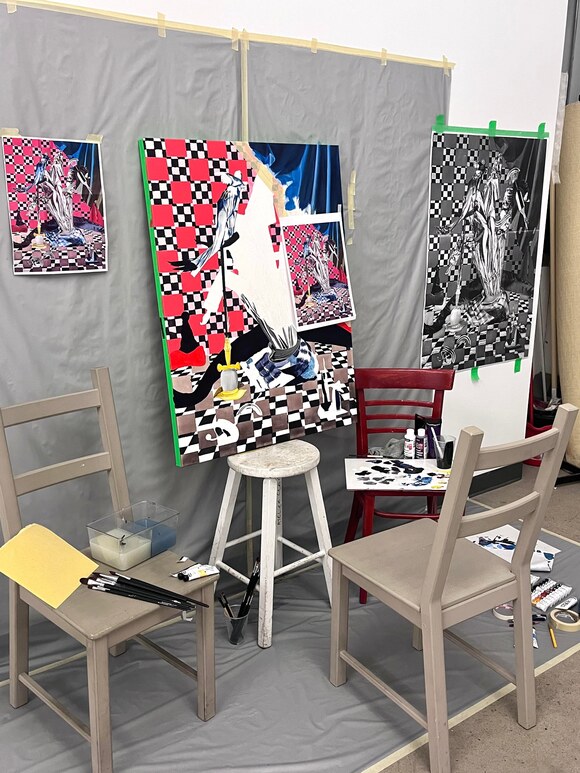 Production in the studio at Centre Clark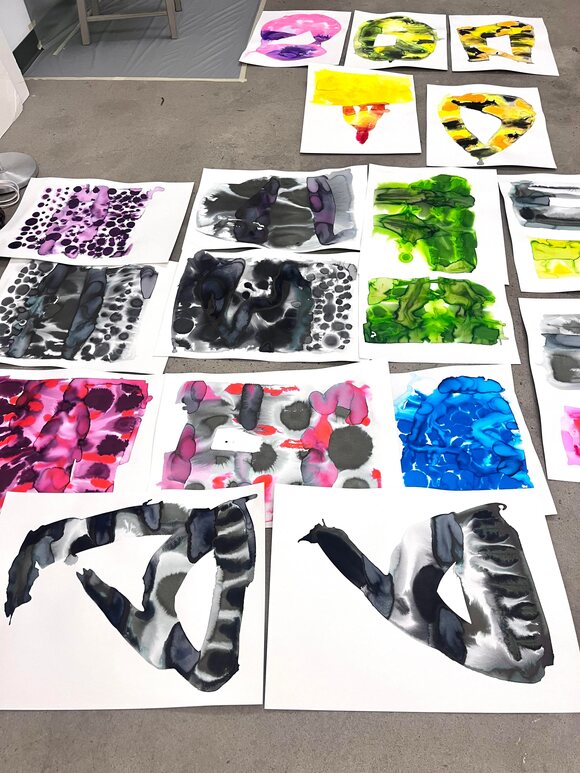 Production in the studio at Centre Clark
Outcome of the residency
The residency program allowed me to stay during several large festivals and get to know companies of several sizes for my research. (32 performances, 14 sessions and events, over 40 exhibitions, 8 festivals, and 5 cities visited: Quebec City, Ottawa, Toronto, Mont-Tremblant, New York).
The program also included several productions that are difficult to stage in Japan today, and viewing such works provided an opportunity to consider the differences in compliance between countries.
The festival membership of MICC (Marché International du Cirque Contemporain) and FTA (Festival Trans Amériques) has helped me to learn about some of the international networks in the community. It gave me information on how to collaborate, ways to promote the festival, and the support system of the city and companies. Participation in some symposia also provided an opportunity to interact with people from various organizations.
A visit to the headquarters of Cirque du Soleil, the largest company of the contemporary circus, provided an opportunity to learn about the set-up, teamwork, and working methods of a large stage production through an interview with the manager of the costume department.
Visits to Canadian antique markets enabled me to acquire a lot of references for my painting work, such as American carnival glass for sale that I use as a reference for color schemes and texture depiction.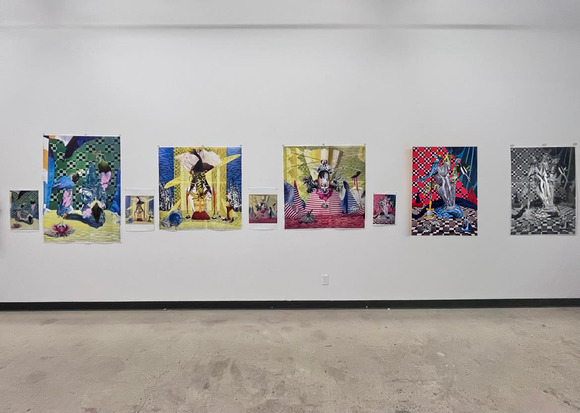 Open studio view, 2022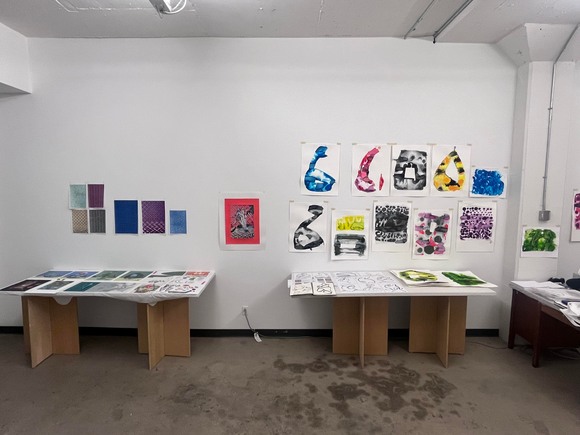 Open studio view, 2022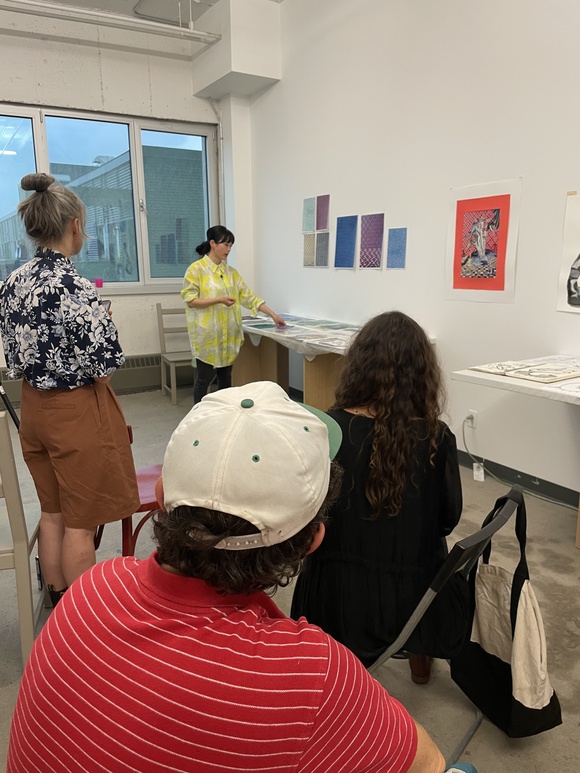 Open Studio Talk, 2022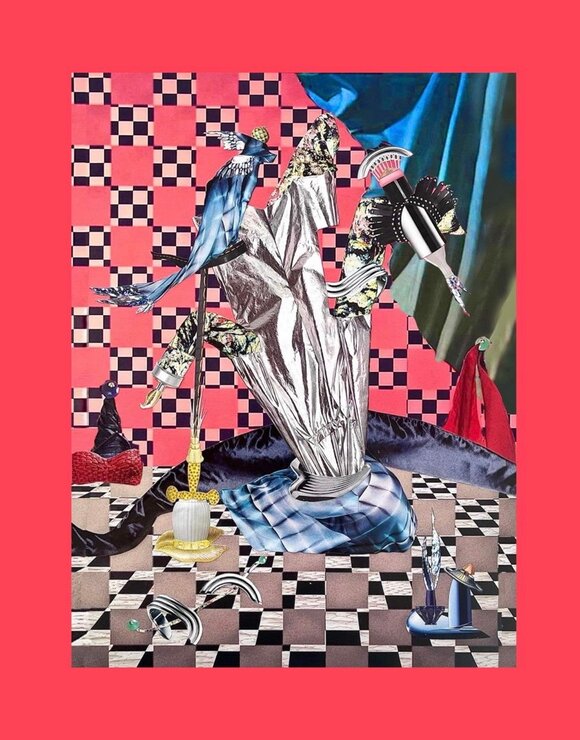 Polyphony of Primary colors (collage) 2022, Collage, pen, paper, 41x29 cm