TOP >
Archives >
Elisa CALDANA (Elisa CALDANA & NAGASAKA Aki )
Residency Program
International Creator Residency Program

update: 2019.10.4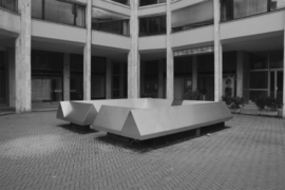 Elisa CALDANA (Elisa CALDANA & NAGASAKA Aki)
| | |
| --- | --- |
| Participating Project | International Creator Residency Program |
| Activity Based | The Netherlands |
| City | Tokyo |
| Period | 2018.5 - 2018.7 |
Purpose of the residency
The purpose of my residency is to use Tokyo as a research ground and explore, with the artist Aki Nagasaka, the impacts brought by the state of crisis; the effects of the Lost Decade, the identity of the Lost Generation and the transformation of society.

We chose Tokyo as our research ground, because of the primacy of the city during the economic boom in Japan in terms of its urban development as a metropolis. How are the recent decades' economic decline affecting the city? What kind of activities and phenomenon are emerging to survive through the situations?
Plan during the residency
-As our field research, we will explore Ginza, Roppongi, Shinjyuku, Marunouchi, Yanaka, Koenji and other areas in Tokyo to observe the condition of the city and people's activities and lifestyles. -
We will interview an activist, Hajime Matsumoto, who has been doing alternative activities in Koenji under the slogan "have the goal of creating a space for people to have fun without money".
-We will also approach the Institute of Social Science in Tokyo University to learn about their researches on crisis thinking and construction of hopes.
-After the research phase, we will discuss our ideas, sometimes using the positions of a local and a visitor, and conceive new work, which may involve the people and places we encountered during our research.