Residency Program
Research Residency Program

update: 2019.10.7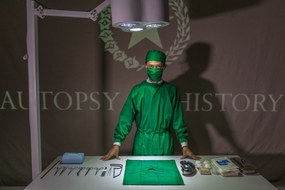 Tita SALINA
| | |
| --- | --- |
| Participating Project | Research Residency Program |
| Activity Based | Indonesia |
| City | Tokyo |
| Period | 2017.2 - 2017.3 |
Purpose of the residency
Our experience after we did the residency at TWS in 2014 has given us big impact on our perspective, creative process and developing networks. Therefore, we are very enthusiastic to do the residency again with a different agenda from the previous one. In this 2 months residency period we will focus on doing research and developing ideas as the main source in our creative process, besides we would like to refresh it by observing artists and curators in Japan also international.
We believe Tokyo is one of the most dynamic city in Asia that inspires in a lot of things and could help us to simplify the notions, we also are very influenced by the Japanese daily life.
Plan during the residency
We would like to do a research relates to the Japanese occupation in Indonesia from 1943-1945, particularly the post World War 2 period. We would like to observe its influence towards art and culture in Indonesia directly or indirectly, also when Indonesia got the independence. One other thing, we would like to trace a living witness, the former wife of the first Indonesian president, Dewi Soekarno. As the last First Lady of Soekarno, Dewi Soekarno is one of important witness when the overthrow of power that was commanded by General Soeharto - then became Indonesian President for 32 years. From the artist perspective, we see this as a potential source of remarkable history, we are very interested in responding it based on our practice as artists. Furthermore, we would like to learn on how to place a historical context into the present situation that is more complex and more global.