Residency Program
Exchange Residency Program (Japan-based creators sent abroad)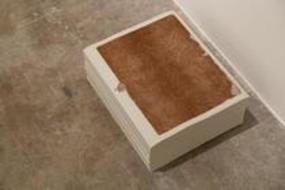 MURAKAMI Hanako
| | |
| --- | --- |
| Participating Project | Exchange Residency Program (Japanese Creators sent abroad) |
| Activity Based | France |
| City | Basel |
| Period | 2016.4 - 2016.6 |
Purpose of the residency
The purpose of my residency is to realize and show a new series of work inspired by my research about the earliest color photography process. For the open studio during Art Basel, I will realize a new installation inspired from the beautiful collection of "Lippmann process" photography, which are made with glass plates covered with prism. This Nobel-awarded process dates from 1907 and its precious examples are part of the collection at the Musée des Elysée in Lausanne, which is 00hours away from Basel by train. I already established contact with the conservator. My studio in Basel will be like a place of poetic experimentation inspired by the origin of the color and different methods how to capture it as a light. In parallel, I am also thinking to do a performance in which I will ask a singer to sing the patent of the first color photography.

I will have my work exhibited on Art Basel at the Taka Ishii Gallery booth, with a work about the invention of photography. So it will be also a great opportunity for me to invite professionals from the art world to discover my new series at the occasion and to enlarge my network.
Plan during the residency
My project is to create an installation based on research about the very early technique of color photography. Last year, I have been realizing a project about the "autochrome process", a color photography process known in the 1920's, invented by the Lumière brothers. While pursuing my research about this glass plate based process, I realized that this technique has its origin in the "lippmann process". Which is based on a glass plate covered with a prism, and glows with rainbow color. As this was quite expensive and complicated, we know a very few examples left.

This process shows an interesting aspect of how different wavelength of lights can be materialized, and I believe that this is not only an alternative way to represent colors, but also a different approach to the material we use to make images. Therefore, I am eager to create a poetic installation inspired from that story.