Residency Program
International Creator Residency Program

update: 2019.10.29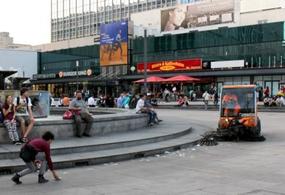 Tita Salina
| | |
| --- | --- |
| Participating Project | International Creator Residency Program |
| Activity Based | Indonesia |
| Period | 2014.1 - 2014.3 |
Purpose of the residency
We choose the cities around the world including Jakarta where we live and Tokyo as our next destination because of the potential and endless creative expression resource. City has become the estuary that bringing the various interests in the dynamic of increasingly global world dilemma. Every single details formed by the dwellers habit and interaction with the city space really attract us to transform urban space into giant playgrounds. Our aim is to touch people's emotion through interventions that affect the 'switch emotion of the players. That is what Urban Bender is made for! Urban Bender is a post-graffiti art intervention in public space motivated by the thoughts of modern society that generally live static like robots. For reasons of political stability, economic growth and intense competition, their minds filled with rules and desires that they could not remember even no longer understood. Ambition to pursue dreams, make them easy to be controlled and used by particular forces. Subversive idea behind this is about the light rebellion against excessive control systems. Urban Bender has attachments in social, politic, normative and universal values of humanity in the public sphere. Urban Bender is a tug-of-interest, a perception deflection, an ironic mockery and a humor against disobedience. It is a creative rebellion, playful interaction, mischievous but smart deception, laugh at yourself, and be able to bring new stories as explosive small markers on the regularity and routine dwellers and able to thrust inspiring simple perspectives towards the complexity of city problems.
Plan during the residency
On first month, we'll be at the stage of 'chewing' everything about Tokyo, to conduct informal investigation to provide a deeper understanding. The goal is finding basic idea for Urban Bender, then build the distribution patterns of information via the internet and social media. Next step is 'digesting'. We'll start to develop ideas, to make prototypes, field test, rehearsal when needed and to solve obstacles if any. It's important to consider the right medium, to choose distributions and material that would represent our concept properly. The last step is to execute the idea. We position the studio at TWS as a 'hub', to strengthen the argument and inspire new awareness. Our ambition is to present the work in unusual places so that will invite discussion. Our goal is to bring good news to the public.