TOP >
Archives >
TOKYO EXPERIMENTAL FESTIVAL ― SOUND, ART & PERFORMANCE ― PART 2
OPEN SITE
TOKYO EXPERIMENTAL FESTIVAL ― SOUND, ART & PERFORMANCE ― PART 2
Concert
Information
| | |
| --- | --- |
| Title | TOKYO EXPERIMENTAL FESTIVAL ― SOUND, ART & PERFORMANCE ― PART 2 |
| Date | 2011.2.13(Sun) - 2011.2.27(Sun) |
| Admission | see each program |
| Organize | Tokyo Arts and Space (Museum of Contemporary Art Tokyo, Tokyo Metropolitan Foundation for History and Culture) |
| Venue | Tokyo Metropolitan Foundation for History and Culture, Tokyo Wonder Site |
Tokyo Wonder Site (TWS) hosts an annual experimental sound festival. During PART 1 in December 2010, the performances by Yosuke Yamashita and award winners from 2009 took place. In PART 2, the projects selected from the application process and performances by award winners and invited artists will be presented. In addition, Ensemble Modern & TWS academy will be held at the same time.
Booking
Please send a fax with name, address, phone number, name of concert and number of tickets to: 03-5766-3742, or email to: performingart10@tokyo-ws.org *The application will be closed as soon as the seats are fully reserved.
TOKYO EXPERIMENTAL FESTIVAL― SOUND, ART & PERFORMANCE ―PART 2 Project Outline
Date: February 17 (Thu.), 2011 - February 27 (Sun.), 2011 Venue: Tokyo Wonder Site Shibuya
Performance by awarded Winners
Encouragement Prize
Meri Nikula "TRILOGY: Human Conditions"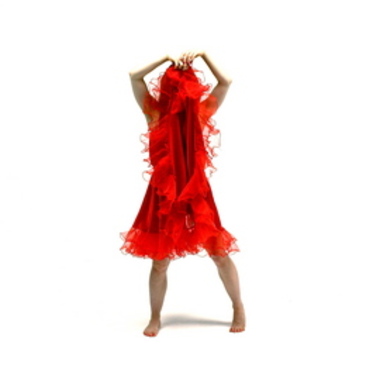 Date: February 17 (Thu), 2011 19:30 Ticket: 1,200 yen
Program:
1. In The Flesh I Reside - birth/body/death (2007)
2. I Eye I /ai ai ai / 愛愛愛 - childhood/fleeting identity (2010)
3. R.E.D (Random Evolutionary Dreams) - womanhood/generations (2011)
In this trilogy I am approaching themes of being human and the basics of 'living in the body' from an experiential point of view. Through one woman, through my own body in movement on stage and on videos and through my voice, live and prerecorded, varying from 'singing' to very abstract forms of expression I mirror my dreams and visions of the 'human conditions'. For my Award Winners Performance I will perform a reworked version of I Eye I /ai ai ai / 愛愛愛 (2010) and a live collage of scenes from the newest piece R.E.D (2011) as a work-in-progress. During the break there will also be a possibility to watch In The Flesh I Reside (2007) as a video registration.
Profile:
Meri Nikula (Finland) has a multidisciplinary background in the fields of music, theater, dance and visual arts. As a singer and a flutist she has performed jazz, classical and world music as well as experimental and improvised music. She has been acting, dancing and singing in musicals and performed with experimental performance groups. As a visual artist she creates video works, where her voice and body plays an important part. Voice continues to be the most important element of her expression. Meri has developed a concept she calls 'vocal mosaic', making collages of her voice in layers, using different vocal techniques, from raw and abstract to serene and angelic. She also gives workshops in voice & body awareness and improvisation called 'Voicing Your Body'.
URL:
www.merinikula.com
&
www.vimeo.com/merinikula
Encouragement Prize
Duo X "Piercing the Axis"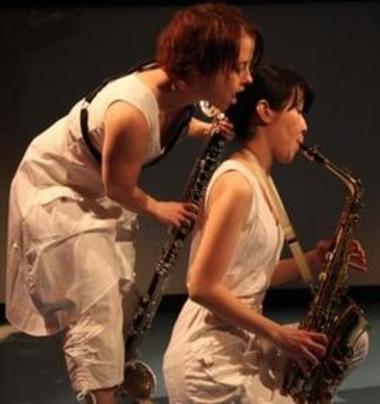 Date: February 18 (Fri), 2011 20:30 Ticket: 2,500 yen Program:
One person lives vertically, the other horizontally. Both yearning, yet afraid of the other. Duo X gives a theatrical music performance of new pieces composed in 2010 in collaboration with composers and video artists. Together with Controllar, their colleagues from Amsterdam, they explore the theme of "Opposition and Acceptance."
Profile:
Amsterdam based Duo X is a miniature East-West wind ensemble: clarinets, saxophones, sho, electronics, video. Sato and Carmichael have performed together since 2003, staging concerts and collaborating with composers in the Netherlands, Germany, Italy, Czech republic, and the United States.
URL:
http://www.myspace.com/duox
Encouragement Prize
Eri Kozaki "Cine Concert"Seven Chances""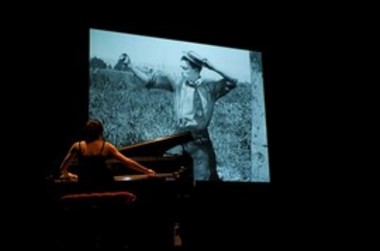 Date: February 19 (Sat), 2011 19:30
Ticket: 500 yen
Program:
The silent movie accompanied by improvisation is the composite art with image and music. The music to "Seven Chances", the film of Keaton who is one of the three world famous comedians, is not only BGM, but also sound effect, emotions...all elements of sound.
Profile:
Eri KOZAKI graduated from Kunitachi college of music and the Paris Conservatoire, with majors in composition, music theory, chamber music and improvisation. In recent years, she accompanies the silent movie frequently, and was also invited to festivals of cinema in France and Italy as a performer.
URL:
http://erikozaki.web.fc2.com/
Cooperation: IVC(
http://www.ivc-tokyo.co.jp/
)
Selected projects for the Festival
Carla Cisno "Breathing Room ― reactive sound environment"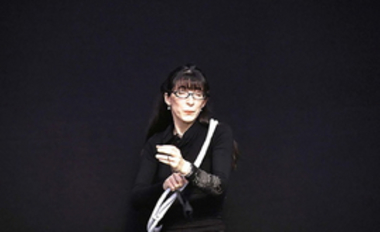 Date: February 17 (Thu), 2011 18:00-19:00 Installation
February 18 (Fri), 2011 18:00-19:00 Installation
February 19 (Sat), 2011 18:00-19:00 Installation
Ticket: 500 yen
Program:
Activated with a simple breath (a blow) of a visitor, a loose, fluctuating, volumetric structure - a dome of sound - elevates itself in the center of the room and then dissolves without leaving a trace.
The notion of 'felt volume' as a sculptural experience. Temporalization of space. Transparency. Ethereal constructions with air pressure.
Profile:
Italian bassoonist and sound artist active in the fields of contemporary music, théâtre musical, performance and installation art. Main focus on electro-acoustic music and mixed media projects for the stage or in installations.
Recent festival appearances include Triennale di Milano, Salzburger Festspiele, ART Basel, Klangspuren, Transart and Lucerne Festival.
URL:
http://espacesmultiples.blogspot.com
The Dialogue "Reorienting Orientationalism, New Directions (haircolour), International Class"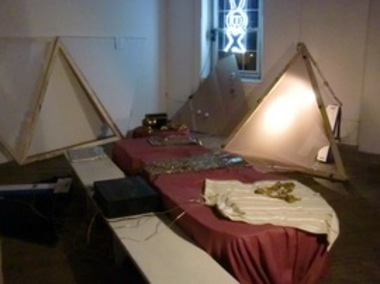 Date: February 18 (Fri), 2011 19:00
Ticket: 1,000 yen

Program:
We will reorient the audience by creating active perception of "difference tones," as well as presenting a visual decoy that appears conventionally (hung on the wall) at first, then slowly overturns by revealing itself as a carrier of sound. This artwork should be playful with the idea of East, referring to the old Orientalism, yet, in the end, that Orientalism itself is reoriented into something non-symbolic, a literalization of transformation, flow of sound itself.

Profile:
Sergei Tcherepnin is a composer/artist/improvisor who uses an vast array of sources to create music and sound installations which are potent in their physicality and psychological effect on the listener. Tcherepnin's music is noted for its attention to texture; his dreamlike narratives are created through ever shifting colors and shapes.
By using mass-produced paper materials, working models, designs and biographies combined with a framework of historical references, artist Henning Bohl rethinks past utopias through the lens of the present. Bright colors, jutting geometrical forms and a distinctive, light touch characterize his paintings and installations. Bohl's work is well known for its highly effective and quasi-theatrical use of space.
The Ningen Dogs Orchestra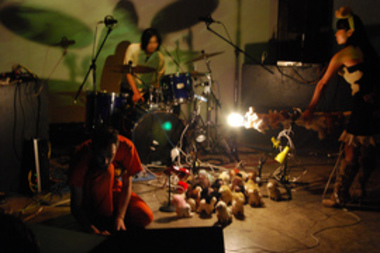 Date: February 21 (Mon), 2011 19:00
Ticket: 1,000 yen

Program:
The Ningen Dogs are supposed to be people although they are naked and walk like four-legged animals. They appreciate their freedom without the struggles that ordinary people suffer in a complicated society. Take a look at their charming gestures in the glaring lights and sounds, they look ridiculously happy.

Profile:
Utako Shibatsuji-Perrin: With a strong academic background in visual arts, Utako Shibatsuji-Perrin is a professional stop-motion animator. She also creates objects and puppets with an intense interest in Surrealism. Nearly 200 'Ningen Dogs', the wild men, who bark and crawl like four-legged animals, has been created since the first public exhibition in 2008.
Stéphane Shibatsuji-Perrin: Stéphane Shibatsuji-Perrin, Ph. D. is a noise music performer and media artist as well as a full-time engineer. He has several musical projects (solo and collaborations) and created a couple of interactive installations. He is mostly interested in the themes of "detournement", body/sex and synesthesia.


oxoxo [zero by zero] with Tomoya Deguchi "Reflective Music"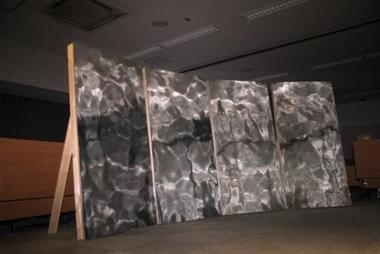 Date: February 21 (Mon), 2011 20:00
Ticket: 1,000 yen
Program:
Sound improvisation by Tomoya Deguchi immediately become movement of light and distort one's sight. The tension and vibes of music propagates to audience / player himself, not only as sound but also as light reflected in a mirror, feeding back to the next sound.
Profile:
oxoxo [zero by zero] is an installation art group based in Tokyo. They express the beauty and mystery of nature such as light, water, air, etc. through their installation works. Tomoya Deguchi is a Japanese musician, known as the drummer of "Lizmic Soul". He also teaches drum lessons to professional musician.
http://oxoxo.me
(web)
http://twitter.com/oxoxo_me
(twitter)
Oser "IMPROVISATION NOISE JAZZ !!"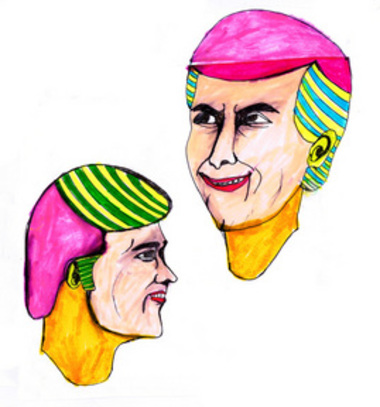 Date: February 21 (Mon), 2011 21:30
Ticket: 1,000 yen

Program:
We are unpleasant plotter.
We are ordinary citizen who set a snare for forced statement to music and spreading indifference.
Sympathy that brings stop of conclusion.
Everything is permitted though it is only in the part through all eternity.
Oser does not mean anything.

Profile:
Noise artist "VEGETUS a.k.a Teppei Togashi" and artist "KABURITUKI a.k.a Takuya Amano" started making sound as Oser in 2010.



Toshie Takeuchi, Lasse Piasecki and Lars Kynde "Composition Machine no. 4, Wandelende Tak"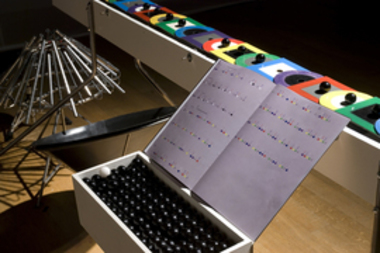 Date: February 23 (Wed), 2011 19:30
February 24 (Thu), 2011 20:00
February 25 (Fri), 2011 20:00
February 26 (Sat), 2011 18:30
Ticket: 300 yen (Free for re-enter)
Program:
"Wandelende Tak" is a musical score
"Wandelende Tak" is an instrument
A composition machine composed by three:
Tempo, Rhythm and Pitch
An attempt of control of a chaotic reality
An artificial game about structure and freedom
A collaboration resulting in sound
Profile:
Lars Kynde is a Danish composer and sound artist, performing music with his own alternative instruments and sound installations. His works focus on the mutual influence of the music, the instrument and the notational system. The instruments contain the duality that enables them to be presented both as installations on exhibitions and as instruments on concerts.
URL:
www.larskynde.dk
Philippe Esling "Noise Entropy"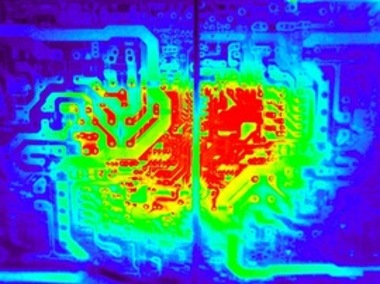 Date: February 23 (Wed), 2011 19:00
Ticket: 1,000 yen

Program:
Music can be seen as organized noise. The limit between these concepts has been shaped through centuries of evolution, but nowadays, we are continuously enforcing the fronteer to the point it has become nothing more than a blurry delimitation. Each person has its own subjective fronteer where it start considering music as noise. This performance is a battle between music and noise that takes place within each one of us.

Profile:
Philippe ESLING has a M.Sc in acoustics, informatics and mathematics and is actually a PhD in computer music and signal processing on the topic of time series analysis at IRCAM laboratory in Paris. He is also a graduate from the National Conservatory of France after 15 years of studying piano. He is currently working at the Japanese-French Laboratory of Informatics in Tokyo University.
Go Suenaga "BED - Concert for Sleeper -"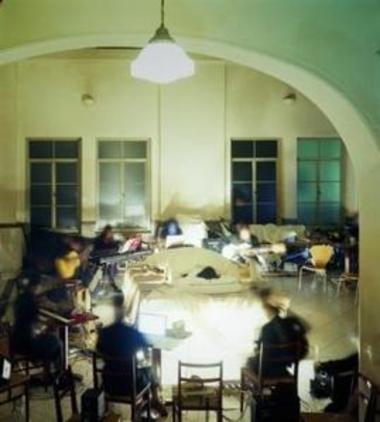 Date: February 23 (Wed), 2011 20:30
Ticket: 2,000 yen (If you bring & wear your pajamas, it's 500 yen OFF)
Profile:
1979, Born. Graduated from Tokyo University of The Arts. My works are offering music for various media, and play and produce music. I also make my own art works. I started 'Concert for Sleeper' in 2009 during a music course at The Film School of Tokyo. This will be the fourth performance of 'Concert for Sleeper'.
Program:
'THE SLEEPER' gets into a bed we prepare in a designated space. The musicians and the audience surround THE SLEEPER.
We have three rules,
'Send the SLEEPER to sleep',
'Don't wake them up',
and 'Don't stop playing'.
Can we send THE SLEEPER to sleep?
URL:
http://gosuenaga.com/BED/
Neil Luck "Trial (Error)"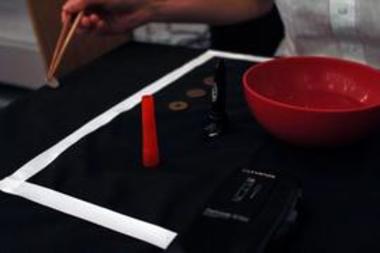 Date: February 24 (Thu), 2011 19:00
Ticket: 800 yen
Program:
Trial (Error) is a series of short sound-based performances; each unit a physical trial (be it one of dexterity, strength, precision) that has sonic implications; the performer's body being the activator or source of sound. The performance makes use of texts by the avant-garde playwright and director Richard Foreman.
Profile:
Neil Luck is a composer, performer, and curator based in London, UK. His compositional practice focuses on various approaches to non-standard notations, in particular those which implicate either the composer's own body/movement in construction, or directly engage with the physiology of performance techniques themselves.
URL:
www.neilluck.com
Asuka Okajima "Vanished"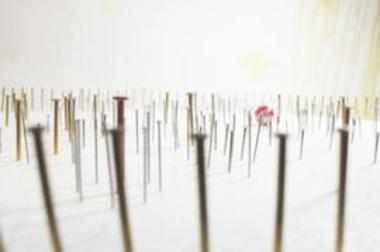 Date: February 25 (Fri), 2011 19:00
Ticket: 500 yen
Program:
Our set is created by the sound of pinballs, bells, human sounds and the simple things around us as well as the animation. I think that sound resembles fragility of our life.
Profile:
Born in Chiba in 1989. Watercolor animator, sound installation artist, and sculptor. Currently works and lives in Tokyo.
URL:
http://sites.google.com/site/asuka8okajima/
kurayamino tones "Create a forest of voice."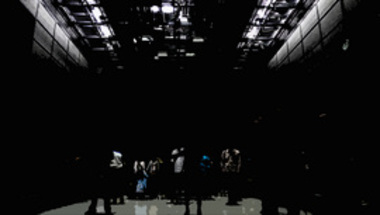 Date: February 26 (Sat), 2011 14:00/15:30
Ticket: 2,000 yen(15 people in each performance)
Qualification: Over 13 years old. People who have a hearing problem cannot participate.
Program:
After breath and special vocal work are done in the total darkness like no change even if it opens one's eyes or it shuts, "Forest of the voice" is created with all participants.
Profile:
Regularly held in Tokyo since 2009. The unique experience that all participants produce a sound and move in the total darkness received a favorable reception. Held at Shibuya UPLINK, Reversible Destiny Lofts MITAKA, and the national museum of emerging science and innovation(Miraikan). Has been published in various media.
URL:
http://bfrec.com/tones.html
Navinko "CityMixer"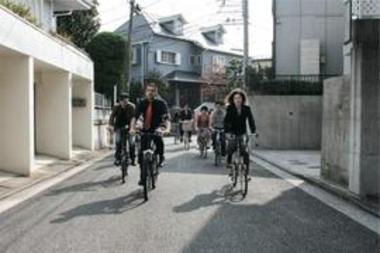 Date: February 27 (Sun), 2011 16:00
Ticket: Free
Program:
In City Mixer, riders are performers; the bicycle and its movements are a musical instrument; and the city is a scorebook. Technology mediates the exchange between these three entities and allows for their engagement in creating music. It marries performing music with physical activity in a large scale orchestrated experience.
Profile:
Navinko's members are a group of graduate students from Asia, North America, and Europe enrolled in the Graduate School of Media Design at Keio University (KMD). We like riding bicycles, technology, art and design, and we love Tokyo! Navinko collaborates with Lullatone, a melody design group from Nagoya that thinks minimalism is cute.
URL:
www.lullatone.com
SOEMON "KOTO LIVE -with you!-"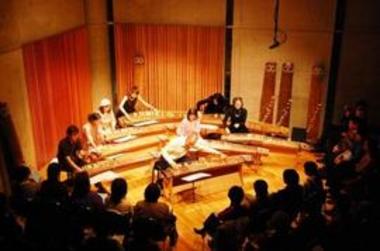 Date: February 27 (Sun), 2011 18:00 Ticket: 2,500 yen Program:
The first half of the program is in concert format, featuring unique compositions conceived by modern koto players. The second half of the program is an audience participatory soundscape based on Terry Riley's minimalist composition "In C." SOEMON members will create a musical framework with the koto, while audience members add depth and texture with bells, percussion, multi function mobile phones and other small instruments.
Profile:
Formed in 1994 by a group of koto players belonging to the Sawai Koto School, SOEMON performs mainly large ensemble works for the 13 string and 17 string koto. Since the unit's inception, SOEMON has striven to push the traditional musical boundaries of the koto through regular concerts as well as stage productions and workshops. In 2001 the SOEMON CD was released in the USA on the Sparkling Beatnik label.
URL:
http://www.soemon.com
Performance by residents
Taipei-Tokyo Exchange Residency Program
Yung-Ta Chang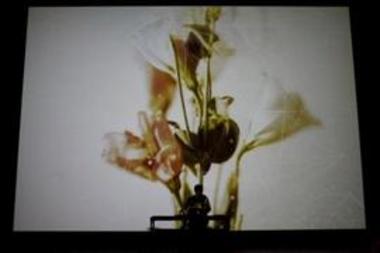 Date: February 24 (Thu), 2011 20:30
Ticket: Free

Profile:
Taipei based sound artist. His works take on a variety of forms such as Audio-Visual, experimental sound, installations and live performances. He composes time-based sculpture with field recording sources where the exquisite and violent coexist. He tries to combine minimal, ambient and complexities and find the possible. His visual work developed according to the audio's original data and its micro unit. In recent years, he also collaborated with independent dancers and visual artists and has performed in many countries.


Mexico-Tokyo Exchange Residency Program
Hugo Solis Garcia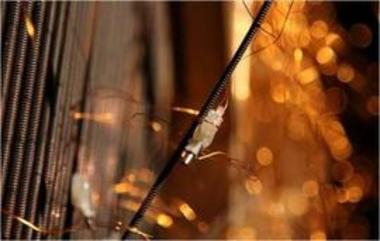 Date: February 25 (Fri), 2011 20:30
Ticket: Free

Profile:
Hugo Solis is a sound artist that works in Mexico City and Seattle. His works have been shown in festivals and venues internationally. He holds a degree in Piano performance from the UNAM University, a DEA in Computer Sciences from Pompeu Fabra Unversity, and a Masters in Media Arts and Science from the Media Lab MIT. He is finishing a PhD in Digital Arts at DXARTS where he develops interactive sound experiences and installations.


International Nomination Program
Daniel Lorenzo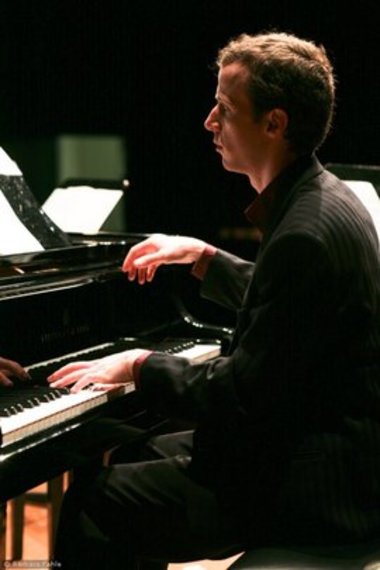 Date: February 26 (Sat), 2011 19:00
Ticket: Free

Profile:
Daniel Lorenzo studied piano and chamber music in Barcelona and Hartford, USA. He later studied 20th-century music at the Sorbonne in Paris, where he is currently writing his doctoral thesis. Since 2003, he has focused on art song interpretation in Berlin while working with Eric Schneider and Matthias Goerne, a.o. In 2009, he joined the International Ensemble Modern Academy, where he worked with leading personalities of contemporary music (e.g., Lachenmann, Zender and Cerha).
He has performed at renowned festivals and institutions (e.g., Rheingau, Gulbenkian in Lisbon, Schumannfest in Düsseldorf, Schoenberg Center in Vienna, Philharmonie of Essen, ZKM Karlsruhe and Darmstadt Summer Courses) and recorded for Naxos, EM Media and Capriccio/Delta Music. Lorenzo has premiered a number of works of a young generation of composers and is a founding member of the MAM - Manufaktur für Aktuelle Musik, a new Germany-based ensemble devoted to experimental music research.

The programs are subject to change.
On Site Lab Workshop [TWS/MUSIC]
ENSEMBLE MODERN & TOKYO WONDER SITE ACADEMY
"EAST ×WEST TOWARDS NEW TRADITION"
The Ensemble Modern is one of the world's leading ensembles of New Music. There will be lessons on pieces of John Cage and other composers, as well as lectures, workshops on stage production and so on, conducted by Ensemble Modern Members and Toshi Ichiyanagi (composer, pianist). Date: February 13 (Sun.), 2011 - February 20 (Sun.), 2011
Venue: Tokyo Wonder Site Aoyama:Creator-in-Residence, Tokyo Women's Plaza Hall
Auditing Fee: ¥1,000 (One Day)

Tutors
Ensemble Modern
Jagdish Mistry (violin / strings)
Ueli Wiget (piano / keyboards)
Dietmar Wiesner (flute / wind instruments)
Rumi Ogawa (percussion)
Invited Composer: Toshi Ichiyanagi(Composer, Pianist)
Courses
Instrument Course, Composition Course
Individual or group lessons, Lecture, Symposium, Workshop, Presentation by Ensemble Modern Member and Toshi Ichiyanagi. Final concert by participants will be held on February 20.
Production Course
Workshop creating stage space through theme based research and discussion with tutors. The process is open to public. Lecture, Symposium, Workshop, Presentation by tutors and others
*All lesson, lecture, symposium are open to public.
*Schedule will be announced on Tokyo Wonder Site website.
*The tutors are subject to change.
Participating Creator