TOP >
Archives >
TOKYO EXPERIMENTAL FESTIVAL ― SOUND, ART & PERFORMANCE ― PART 1
OPEN SITE
TOKYO EXPERIMENTAL FESTIVAL ― SOUND, ART & PERFORMANCE ― PART 1
Meet the Japanese Contemporary Musician Vol. 5 Music of Yosuke Yamashita/Selected projects for the Festival | Performance by the Awarded Winners'
Concert
Information
Title
TOKYO EXPERIMENTAL FESTIVAL ― SOUND, ART & PERFORMANCE ― PART 1
Meet the Japanese Contemporary Musician Vol. 5 Music of Yosuke Yamashita/Selected projects for the Festival | Performance by the Awarded Winners'
Date

2010.12.20(Mon) - 2010.12.25(Sat)
Admission

Please see each program.
Organize

Tokyo Metropolitan Foundation for History and Culture, Tokyo Wonder Site
Venue

TWS Shibuya
Artist

Yosuke Yamashita, mamoru, Mayumi Orai × Ayako Okubo, Takahiro Tomatsu, ensemble cross.art
Tokyo Wonder Site (TWS) hosts an annual experimental sound festival which presents projects selected from an open application process. This year, the festival will take place at TWS Shibuya, starting by the Yosuke Yamashita's performance. We look forward to your participation.



Booking
Please send a fax with name, address, phone number, name of concert and number of tickets to: 03-5766-3742, or email to: performingart10@tokyo-ws.org *The application will be closed as soon as the seats are fully reserved.



Meet the Japanese Contemporary Musician Vol. 5 Music of Yosuke Yamashita
Date
December 20 (Mon.), 2010 Start 19:00 (Door Open 18:30)
Ticket
2,000 Yen, Student 1,600 Yen [Please present your student ID at the reception desk.] (Free Seating / Reservations required / Payment at the reception desk)
Performer
Yosuke Yamashita(Piano, Talk), Toshi Ichiyanagi(Talk/Composer, Pianist), Kenichi Nakagawa(Talk/Pianist, Conductor), Shungo Mise(Violin), Fumiko Kai(Violin), Miyuki Sakanaka(Viola), Yasuo Maruyama(Cello)
Program
Talk by Yosuke Yamashita
Talk & Piano Session: Yosuke Yamashita×Toshi Ichiyanagi×Kenichi Nakagawa
Yosuke Yamashita Piano Solo
Yosuke Yamashita≪Sudden Fiction≫(2006)
※Program is subject to change.
Selected projects for the Festival | Performance by the Awarded Winners'
<Grand Prize> mamoru "etude for everyday life"
Date
December 21 (Tue.), 2010 Start 14:00 *Fully booked     
December 22 (Wed.), 2010 Start 16:00 *Fully booked     
December 25 (Sat.), 2010 Start 13:00 *Fully booked     
December 25 (Sat.), 2010 Start:14:15 *Fully booked     
December 25 (Sat.), 2010 Start 15:30 *Fully booked
※Reservation required. 10 people for one performance.
※Please ask if there is a today's ticket or not in advance.


Ticket
¥2,000
Performer
mamoru

Original sound loops, a few etudes derive from drinking hot tea, and "etude no.38 water and paper" would be presented.


Program
etude no.13 ice
etude no.40 hot water and tea leaves
etude no.38 water and paper.
Profile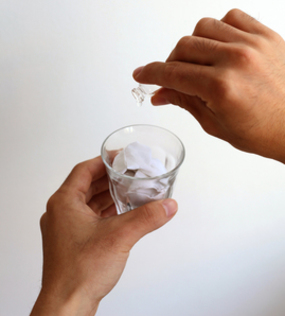 The etude series that recodes everyday objects and practices into sound works has been shown in and out of Japan.
<Special Prize> Mayumi Orai × Ayako Okubo "~cimbalom, flute "Trance"~"
Date
December 21 (Tue.), 2010 Start 19:00 (Door Open 18:30)
Ticket
¥2,000
Performer
Mayumi Orai (Cimbalom)/ Ayako Okubo (Flute) / Sumihisa Arima (Live Electronics)

Various sound created from cimbalom and flute with the electronics and voice comes from our body.. They fill the space with changing their colors and forms...as a kaleidoscope... Contemporary works for cimbalom and flute including a new commissioned work for flute solo.


Program
Maurilio Cacciatore"Trance"(2006)
Yoshifumi Tanaka New piece(2010)
Yuji Takahashi"Maeander"(1973)
Profile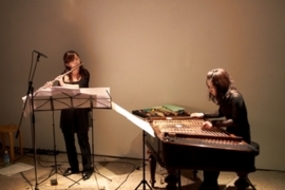 Mayumi ORAI(Cimbalom) and Ayako OKUBO(Flute), have been working together with various composers and ensembles such as Accroche Note in europe. Since they met a piece, "Trance", for flute and cimbalom written for them in 2007, they form a Duo and give concerts together in Europe and Japan.
<Special Prize> TAKAHIRO TOMATSU "WHITE CUBE GYMNASIUM GRACEFUL SURVIVAL"
Date
December 22 (Wed.), 2010 Start 19:00 (Door Open 18:30)
Ticket
¥800
Performer
Takahiro Tomatsu(Plan, Direction, Perform), Fumiaki Kanai (fight perform), Toshimitsu Nakagawa(sound operator), Muneteru Ujino(Technical Adviser)

The common feeling between mental derangement and martial art is the strike of fear. The program attempts to play music with the human body's strength in fears. Using gymnastic tools as music instruments, he will show his performance in the white cube "gym" by devoting all his powers between the fear and laugh.


Program
National Anthem
Profile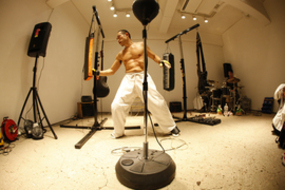 He participates in training of martial arts and enters many martial art matches while working as a lecturer of art program at psychiatric hospital. While participating in John Zorn's Cobra Tokyo Operation, Yokohama Triennale 2005 and GEISAI Invitational exhibition, he's expanding his activity field now.
<Grand Prize> ensemble cross.art "earseyes"
Date
December 25 (Sat.), 2010 Start 19:00 (Door Open 18:30)
Ticket
¥3,000
Performer
Junko Yamamoto(Piano), Sun-Min Shim(Marimba), Masanori Oishi(Sax), Shungo Mise (Violin)

The ensemble cross.art's interdisciplinary project "eareyes" unites new instrumental music with short films. Young composers were commissioned to compose a soundtrack to one short film by the video artists Yukihiro Taguchi and Malaka Dewapriya.


Program
Yoshifumi Tanaka "Nest"(2008) Oliver Frick "Chasse au moment"(2008) Nikolaus A Huber "clash music"(1988)
Profile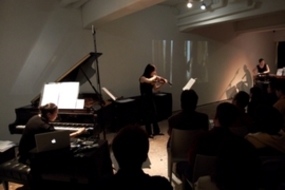 "ensemble cross.art" is an ensemble for contemporary music and has been founded by a couple of lecturers of Musikhochschule Stuttgart. One of the ensemble's central concepts is to combine contemporary instrumental music with other media and art forms.
Participating Creator
mamoru
Mayumi ORAI x Ayako OKUBO
SAKANAKA Miyuki
TAGUCHI Yukihiro
TOMATSU Takahiro