ACT(Artists Contemporary TOKAS)
Ungraspable
ACT (Artists Contemporary TOKAS) Vol. 5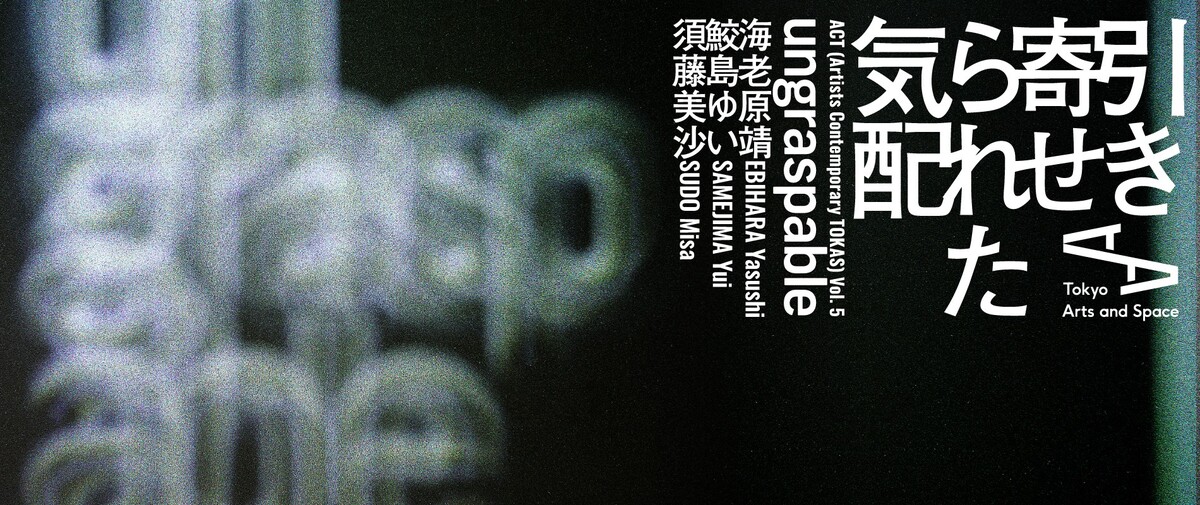 Tokyo Arts and Space (TOKAS) presents a series of exhibitions "ACT (Artists Contemporary TOKAS)" that showcase noteworthy efforts by mainly artists who have previously participated in other TOKAS programs. This fifth edition introduces three artists who attempt to capture invisible presence, and evoke on various scales relationships between substance and imagination regarding such things.

This time, Ebihara Yasushi presents freeze frames from videos; Samejima Yui historical materials related to ancient ruins; and Sudo Misa works based on space observation data. All of them are visualizations of fragmentary moments and phenomena, capturing things that we can perceive but not recognize, things that have gotten lost, or things that we will never be able to see, while inviting our imagination to the vast expanses of space and time that each of them involves. Informed by different viewpoints and techniques, the exhibits work as harbingers of the invisible presence that lurks behind each of them.

Information
| | |
| --- | --- |
| Title | ACT (Artists Contemporary TOKAS) Vol. 5 "Ungraspable" |
| Date | 2023/2/11 (Sat) - 2023/3/26 (Sun) |
| Time | 11:00-19:00 |
| Closed | Mondays |
| Admission | Free |
| Artists | EBIHARA Yasushi, SAMEJIMA Yui, SUDO Misa |
| Supports | Wada Fine Arts, KEN NAKAHASHI, SYP Gallery |
*Subject to change due to the situation affected by COVID-19.
Artists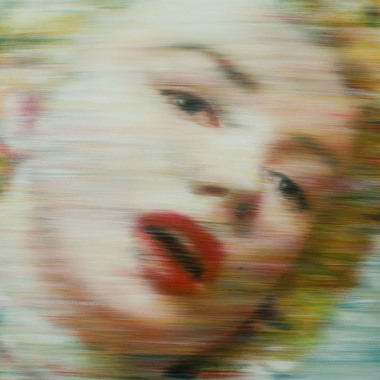 EBIHARA Yasushi

Born in 1976 in Ibaraki. Lives and works in Ibaraki.
Ebihara has been exploring the fleetingness of mass-consumed subjects and fading memories, by various means including painting, sculpture, photography and performance.
The "NOISE" series that is showcased at this exhibition, consists of oil paintings of movie scenes captured in freeze frames from video tapes. While being still images disturbed by scanning lines, in which movies – that normally play as sequences of fragments – are fixed at one point as if time itself had been detained, the pictures are charged with a sense of movement. The painted faces of actresses and sceneries are disconnected from the respective original story, and certainly evoke different images in different viewers. By demonstrating that movies contain moments that are not consciously perceived, the works remind us of the fact that only a tiny fraction of the things we see also in daily life, is stored in our awareness and our memory, while making us travel back and forth in the chaos of vanishing and multiplying images.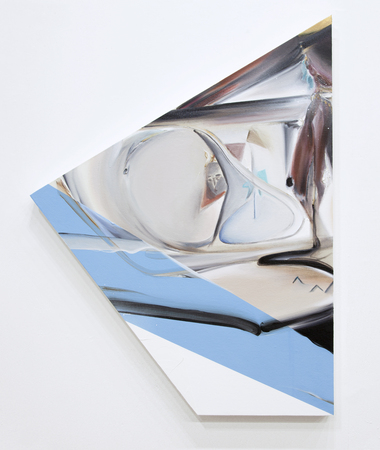 SAMEJIMA Yui

Born in 1988 in Kyoto. Lives and works in Kyoto.
Samejima focuses in her creative work on paintings themed on connections between "visible things" and "invisible things," or visualizations of the boundary between the two realms.
The centerpiece of this exhibition is the "Yobitsugi" series of paintings that the artist has been working on in recent years. Here she orchestrates the exhibition space with a diverse array of works themed on ancient ruins, tools that are no longer used, tradition and occultism. Originally, "yobitsugi" is a technique of refurbishing broken vessels using lacquer and gold, and replacing missing parts with pieces from other vessels. The artist applies this technique to painting, where she conjures up things that aren't actually depicted, from patchworks of images with different historical and narrative connotations within each work. She often uses irregularly shaped canvases that again look like fragments of something larger, and that she combines into arrangements of yet different dimensions.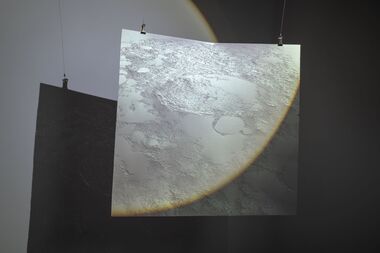 SUDO Misa

Born in 1982. Lives and works in Saitama.
Sudo attempts to express in her works the "universe" as something that is difficult to grasp, while reducing her distance from it, through her creative activities revolve around the creation of works for which she punches countless holes into sheets of paper using pins which makes images of stars, planets and galaxies emerge.
When paying attention to the irregularities and slits resulting from single-mindedly piercing the paper with sharp tools, contrary to the mysterious cosmic impressions, these parts make us feel the roughness and ruggedness of the universe, along with a sense of fear. In addition to X-ray images taken by the Orbiting Solar Observatory "Hinode," in this exhibition Sudo unveils an installation combining motifs including the Sun, Saturn and Milky Way, based on interviews with researchers and collected data. As a whole, the exhibition invites visitors to discover the minute characteristic distinctions between the stars by observing the individual works on display.

Catalog
To download the catalog of "ACT (Artists Contemporary TOKAS) Vol. 5" please click here.
Related Event
Artists' Talk
| | |
| --- | --- |
| Date | 2023/2/11 (Sat) 16:00-17:30 |
| Artists | EBIHARA Yasushi, SAMEJIMA Yui, SUDO Misa |
| Venue | Tokyo Arts and Space Hongo |
| Language | Japanese  |
*Programs are subject to change due to COVID-19.

Participating Creator