TOKAS Creator-in Residence Exhibition
RETURN TO
TWS Creator-in-Residence 2015-2016
Exhibition
Title
RETURN TO
TWS Creator-in-Residence 2015-2016

Date
2016.4.16(Sat) - 2016.5.29(Sun)

Time
11:00 - 19:00

Admission
Free
Organize

Tokyo Metropolitan Foundation for History and Culture, Tokyo Wonder Site

Cooperation

Berlin City, Kunstraum Kreuzberg/Bethanien (Berlin, Germany), Taipei Artist Village, Treasure Hill Artist Village (Taipei, Taiwan), Matadero Madrid (Spain, Madrid)

Venue
TWS Hongo

Artist

Kyunchome,Maiko Jinushi,Yusuke Taninaka,Kaya Hanasaki
Information
This exhibition "RETURN TO" introduces the works of 4 creators who participated in the Residency Programs by Tokyo Wonder Site, and were sent to each city such as Berlin, Madrid and Taipei in 2015. Being away from Japan for a while, they discovered something new and obtained extraordinary experiences that must have influenced their creation in their career while encountering different culture.
Profile
Kyun-chome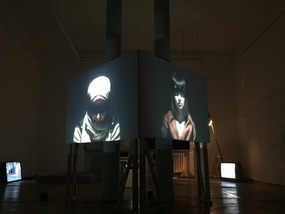 Art unit formed in 2011 consisting Eri Homma and Nabuchi. Kyun-chome attempts to capture the contradictions or obsessions human innately possess.
Maiko Jinushi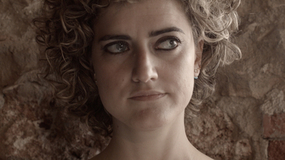 Born in 1984, Jinushi received her MFA in Painting from the Tama Art University in Tokyo, Japan. Jinushi started her artwork by making drawings and writing novels, based on her personal stories then she began seriously producing video works in 2010.
Yusuke Taninaka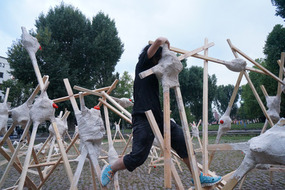 Born in 1988. Obtained M.F.A. in sculpture from Kyoto City University of Arts. Taninaka seeks to uncorporate into his expressive activities both the process of making works and the viewing experience that arises from performances using those works, in order to portray bodies that are flesh and blood. FY2016 recipient of the Kyoto City Special Bounty Program For Art And Culture.
Kaya Hanasaki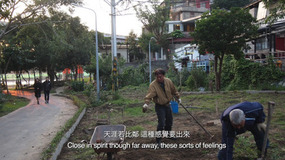 Born in 1987. M.F.A. Tokyo National University of Arts, Inter-Media course in 2012. The artist who mainly works on performance art. The works are for ease the sense of values established by living environment and a social system to prospect the better human beings.
Related Event
Artist Talk
2016/4/16 (Sat) 15:00-17:00
Participating Creator
HANASAKI Kaya
JINUSHI Maiko
KYUN-CHOME (Homma Eri)
TANINAKA Yusuke