Other Program
AAA TOKYO ALLIANCE
Asia Anarchy Alliance Satellite Program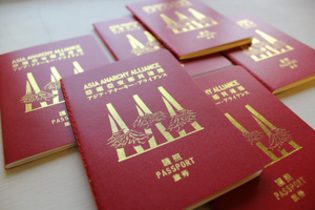 Information
Title
AAA TOKYO ALLIANCE
Asia Anarchy Alliance Satellite Program

Title
2014.3.8(Sat) - 2014.4.20(Sun)

Admission
varies by the venues
Organize

Tokyo Metropolitan Foundation for History and Culture, Tokyo Wonder Site, Kuandu Museum of Fine Arts (Taipei National University of the Arts) (Taiwan) Project Fulfill Art Space (Taiwan)

Subsidize

The National Culture and Arts Foundation: NCAF (Taiwan), F.C.H. Investment Corp., Spring Foundation, TKG Foundation for Arts & Culture
Cooperation

ART FAIR TOKYO, AI KOWADA GALLERY
ASIA ANARCHY ALLIANCE PASSPORT will take you to the journey to "AAA Tokyo Alliance". A special limited gift, AAA budge, will be given away for those who go through AAA Tokyo Alliance journey by getting more than 10 stamps.
Where can I get the passport? - All the venues of TWS and AAA Tokyo Alliance.

Where can I get the special gift? - Tokyo Wonder Site Shibuya and Hongo

When can I get the passport and the special gift? - 8 March - 20 April (For the AAA Alliance venues, during the event period only)
AAA TOKYO ALLIANCE
ART FAIR TOKYO 2014
[Date] 3.7-3.9
[Venue] Tokyo International Forum, B2F Exhibition Hall
☆Special Offer☆500yen discount if AAA passport holders show it to our information desk.
[Website]
http://artfairtokyo.com/
NANZUKA
[Exhibition] Untitled
[Artist] Makoto Taniguchi
[Date] 3.1-3.29
[Introduction] First solo exhibition of Makoto Taniguchi at NANZUKA, presents the latest works include the mirror series projecting the image in between the reality and otherworld.
[Website]
http://www.art-is.com/en/aikowadagallery/
,
http://www.mitsunorisakano.com/


HAGIWARA PROJECTS
[Exhibition] Group Show
[Artist] Soshi Matsunobe, Eri Takayanagi, and others
[Date] 4.5-5.10
[Introduction] A group show by Soshi Matsunobe, Eri Takayanagi and others, representing recent and new installation works.
[Website]
http://www.hagiwaraprojects.com/


hpgrp Gallery TOKYO
[Exhibition] The fire that has been burning for 1000 years and the star that has gone out 8 minutes and 19 seconds ago.
[Artist] Daisuke Nagaoka
[Date] 3.6-4.6
[Introduction] The picture installation that expresses the possibility of human's imagination with animation works made by drawing with a pencil. [Website]
http://hpgrpgallery.com/tokyo/


U NIHONBASHI
[Exhibition] visual void / auditory void / up in the void
[Artist] Hiroshi Ashikaga
[Date] 3.7-3.16
[Introduction] Hiroshi Ashikaga will exhibit new art works that include a photographic work created by permission of St Paul's Cathedral during Tokyo Wonder Site Residency Program 2012 London.
[Website]
http://urahara-geidai.net/studio/


Studio Aufheben
24 hours resistance presentation and other acts
[Artist] Yoi Kawakubo, Toshihiro Kobayashi, Yoshinori Niwa, Ishu Han, Paribartana Mohanty among others
[Date] 3.9 PM12:00 - 3.10. PM12:00
[Introduction] Organized by the artists sharing Studio "Studio Aufheben", A continuum meeting of people coming through the venue in an endless presentation race through 24 hours. It's open to everyone!
[Website] http://aufhebentokyo.wordpress.com 
Unofficial Museum Guide Tour
[Artist] Yoshinori Niwa
[Date] Detail will be announced on the website.
[Website] http://unofficialguidetour.tumblr.com/
Other events will come up soon on Studio Aufheben's webiste!


waitingroom
[Exhibition] BGM
[Artist] Yusuke Shibata
[Date] 3.15-4.20
[Introduction] Installation of a mix of photographs, videos and three-dimensional works focusing on the relationship between a story and the reality surrounded by the story as an approach the reality as it is whose relations between the truth and false are very close but ambiguous.
[Website]
http://www.waitingroom.jp/


G/P+g3gallery
[Exhibition] TOKYO FRONTLIEN #4 Solo Exhibition by Ishu Han "Life Scan"
[Artist] Ishu Han
[Date] 3.8-4.12
[Introduction] "Tokyo Front Line", started in 2011, is a project for a sales and a promotion for the young artists in Japan. From 2013, moved to TOLOT / heuristic SHINONOME of Shinonome, and in 2014, as presentation more radical, hold a one-man exhibition with young artists Ishu Han, who is one of the artists expected in the future.
gallery COEXIST-TOKYO
[Exhibition] Doubtful Island
[Date] 3.8-4.6
[Artist] CONCEPTUAL ARCHITECT: SAE OSHIO, KOJIRO KOBAYASHI, ICHIYU SAKAI, TOMOHIKO MAENO, TAKESHI MITA
[Introduction] "Conceptual Architect" is a loose association which Tomohiko Maeno as its director started from 2009. The members depend on their activities and this exhibition is organized by five members. Situation of today that individuals are forced to connect with others. Multiple artists try to portray a world that is isolated from the others and a person who lives there in this show. Conceptual Architect shows an act of creating a map of a unverifiable world, a world without others, and the procedure to add a "Doubtful Island" in the world that we live.
[Website]
https://ja-jp.facebook.com/GalleryCoexistTokyo/


TWS AAA Events
TWS Art Cafe 24/7 coffee & roaster
[Exhibition] Tokyo Wonder Site Art Cafe WINDOWS Vol.8 & 9
[Artist] Vol.8 Masaru Iwai / Vol.9 Koji Maekawa
[Date] Vol.8 3.8-4.1 / Vol.9 4.2-5.1
[協力] Treasure Hill Artsits Village (Taiwan)
[Introduction] Video screening with the works made by Masaru Iwai (2010) and Koji Maekawa (2012) in Taipei, when TWS sent them to Taipei Artist Village for the residence program.。
[Website]
Vol.8
,
Vol.9
[Talk] MEET THE ARTIST VOL.7
[Artist] Chih-Wei Chuang
[Date] 3.27 19:00-20:00
[Introduction] TWS resident, the young Taiwanese media artist, Chih-Wei Chuang will give an artist talk about his recent activities and the project in Tokyo. *Chinese and Japanese language only
[Website]
Vol.7
TWS Aoyama: Creator-in-Residence
[Talk] Presentation and Talk
[Artist] Irwan Ahmett & Tita Salina, Paribartana Mohanty
[Guest] Takahiro Kaneshima (Executive Director of ART FAIR TOKYO, Director of Far East Contemporaries)
[Date] 3.22 (sat) 15:00-16:30
[Introduction] Artist Presentation and Talk by TWS residents from India and Indonesia with Takahiro Kaneshima, the exective director of Art Fair Tokyo. This program is organized as a part of Open Studio. * with Japanese-English Interpretation *Open Studio:03.22 13:00-18:00
[Website]
OPEN STUDIO 2014/March
[Event] Act the Victim (Tokyo)
[Artist] Paribartana Mohanty
[Date] 3.21(National Holiday) 13:00-18:00
[Introduction] Act The Victim' is a public-audition art project, invites people to act or perform as victims. It becomes a psychological journey within or even a cathartic moment or even a jest that produces only laughter.
[Website]
https://www.facebook.com/actthevictim
[Event] Fluid Citizen [Artist] Irwan Ahmett & Tita Salina
[Date, Venue] 3.23(Sun)13:00- *The place will be announced on the website. 
[Introduction] "Fluid Citizen" is an open event that is calling for participants! Behave and move as if you become liquid in the city area.
[Website]
TWS News: Calling for participation
,
Fluid Citizen promo-TOKYO


Go Back to TWS Shibuya: Asia Anarchy Allience
Go Back to TWS Hongo: Asia Anarchy Allience
H6 少見出し背景あり<h6>