Open Studio
Residence
Information
Title
OPEN STUDIO 2010/January
GUEST TALK:Manuel Tardits (Architect, MIKAN)

Date
2011.1.29(Sat)

Time
13:00 - 18:00

Admission
Free (With Japanese-English Interpretation)
Organize

Tokyo Metropolitan Foundation for History and Culture, Tokyo Wonder Site

Venue
TWS Aoyama:Creator-in-Residence

Artist

Project Residency Program
Nesrine Khodr(Visual Art/ Lebanon)
Kyungwon Moon(Visual Art/ Korea)

Exchange Residency Program (Invitation)
Yung-Ta Chang(Visual Art/ Taipei)
Monika Rechsteiner(Visual Art/ Switzerland)
Hugo Solís García(Sound Art/ Mexico)
Local Creator Residence Program
Yuko Kamei (Visual Art / Japan)
mamoru (Sound Art / Japan)
Motoyuki Shitamichi (Visual Art / Japan)
Yuichiro Tamura (Visual Art / Japan)

International Creator Residency Program
Juan Lopez Diez (Visual Art / Spain)
Alexander Kershaw (Visual Art / Australia)
Ei Arakawa (Visual Art, Performing Art / USA)

Institutional Recommendation Program
Wieki Somers&Dylan Van den Berg (Design, Netherland)
TWS Aoyama: Creator-in-Residence organises monthly public program, "OPEN STUDIO" which is for the public to see the creative processes of residing artists, to communicate and to exchange ideas about their works. In each studio, the artists present the progress of their works or research in various ways. In the OPEN STUDIO of this month, Manuel Tardits (Architect, MIKAN) will give a talk. Please don't miss this precious opportunity!
Schedule
13:00 - 18:00 OPEN STUDIO
15:30 - 17:00 GUEST TALK "The goat and the monk" Manuel Tardits (Architect, MIKAN)


GUEST TALK
In the island of Saku, in the bay of Chita, which is losing its population Mikan was asked to remake 4 Hokora of the original 88 steps of the local pilgrimage that celebrate the famous buddhist monk Kobo Daishi. These four works, between dream and reality, are spread all over the island and intended with previous art works by other artists to attract tourists for reviving the island. In my own proposal I added to the hokora or shelter for the statue of the monk, a shelter for a neighboring billy goat. This intended to show the link between spirit and materiality.
Profile
Manuel Tardits (MIKAN) Architect DPLG(France)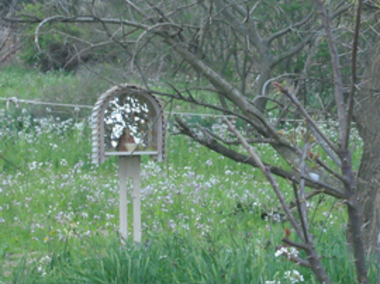 1959 Born in Paris
1984 Diplomated from Unite Pedagogique d'Architecture n1in Paris
1988 Master of Engineering from the University of Tokyo
1988-92 Attended Ph.D Course at the University of Tokyo
1994 - Professor at ICS College of Arts
1995 Founding member of architecture firm Mikan
2005 - Vice-Principal at ICS College of Arts
2006 Chevalier dans l'ordre des Arts et des Lettres
Participating Creator
ARAKAWA Ei
Dylan Van de BERG
Yung-Ta CHANG
Juan López DIEZ
Hugo Solis GARSIA
Yuko KAMEI
Nesrine KHODR
mamoru
Kyungwon MOON
Erick PEREIRA
Monika RECHSTEINER
SHITAMICHI Motoyuki
Wieki SOMERS (STUDIO WIEKI SOMERS)
TAMURA Yuichiro