TOP >
Archives >
TEAM 16 | ARAKAWA Tomonori presented by CHAOS*LOUNGE
Other Program
TEAM 16 | ARAKAWA Tomonori presented by CHAOS*LOUNGE
TEAM: TOKYO WONDER SITE EMERGING ARTISTS ON MEZZANINE
Exhibition
External Work
Information
Title
TEAM 16 | ARAKAWA Tomonori presented by CHAOS*LOUNGE
TEAM: TOKYO WONDER SITE EMERGING ARTISTS ON MEZZANINE

Date
2011.1.13(Thu) - 2011.2.13(Sun)

Time
11:00 - 19:00

Admission
Free
Organize

Tokyo Metropolitan Foundation for History and Culture, Tokyo Wonder Site

Venue
TWS Shibuya

Artist

ARAKAWA Tomonori / CHAOS*LOUNGE
about
Tokyo Wonder Site has been putting great effort into the continuous support of young artists, in affiliation with the Tokyo Government-hosted "Tokyo Wonder Wall" (launched in 2000), and as part of a global network of galleries and other cultural facilities. For each installment of this "TEAM" series, we have been selecting talented, up-and-coming artists and other creators who distinguished themselves in exhibitions at TWS Hongo, to exhibit their works at TWS Shibuya. "Mezzanine" in the title reflects our wish to provide through these exhibitions the artists with an intermediate platform from where they can hopefully leap to the next, international level.
This time, TWS Shibuya will be presenting the works by CHAOS*LOUNGE and Ichiro Endo, in which they share the place and processes with public in various ways.
ARAKAWA Tomonori is the name of a Japanese man who was born in 1983. At the same time, it also refers to an Internet-based character, a new cultural movement, an integrated thought entity, and an urban legend...
Anyone can be ARAKAWA Tomonori any time. But they don't become ARAKAWA Tomonori for their own sake. They become ARAKAWA Tomonori for the sake of ARAKAWA Tomonori. A connection between all those ARAKAWA Tomonoris that are crowding the World Wide Web exists only in the fact that they all call themselves ARAKAWA Tomonori.
The name ARAKAWA Tomonori epitomizes the ethos of sharing that is unique to the overmatured web and otaku culture in Japan.
(CHAOS*LOUNGE)
Profile
ARAKAWA Tomonori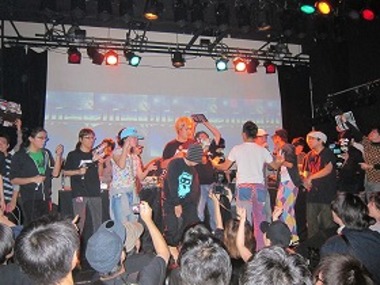 1983 Born in Tokyo
1999 Graduated from Mitaka Municipal Dai-Yon Junior High School
__________________________
Selected Solo Exhibition
2010 "NEW CHAOS*LOUNGE NATURE," Takahashi Collection Hibiya, Tokyo
2010 "THE☆Tomonori Arakawa ―The first and last UNIT," UNIT, Tokyo
2010 "Tomonori Arakawa Kai," D-LOUNGE, Tokyo
2010 "HAMETSU*LOUNGE," NANZUKA UNDERGROUND Shibuya, Tokyo
Related Event
OPENING EVENT
Jan. 13 (Thu) 18:00-21:00
Live Drama of ARAKAWA Tomonori on the Web starting at the weekend of January 22!
1, January 22, 18:30~ 
2, February 6, 18:30~
3, February 13, 20:00~
CLOSING EVENT
Feb. 13 (Sun) 18:00-21:00
Participating Creator