TOP >
Archives >
TWS-Gathering Slowpink / Small Gallery Apartments
Other Program
TWS-Gathering Slowpink / Small Gallery Apartments
On Site Lab
Information
| | |
| --- | --- |
| Title | TWS-Gathering Slowpink / Small Gallery Apartments |
| Date | 2008.12.11(Thu) - 2008.12.13(Sat) |
| Time | 10:00 - 23:30 |
| Admission | Free ※We offer to you order a drink/food. |
| Organize | Tokyo Metropolitan Foundation for History and Culture, Tokyo Wonder Site |
| Cooperation | SOMEONE'S GARDEN |
| Venue | TWS Art Cafe kurage |
| Artist | Patrik Söderstam |
Patrik Söderstam, a fashion designer and artist will create a special installation at a corner of TWS Art Cafe kurage. And on 12/12(Fri.) a performance will be held between 19:00-21:00.
Artists Goods Fair:
Grid shelves, like a small gallery apartments will be created at "Slowpink", artists' goods shop area in TWS Art Cafe kurage during this event. In every little gallery apartment, you can buy unique artists' goods, such as painting, T-shirts, jewellies, pins, cards or stickers.

Artists (tentative):
Yuri Ito / Ryo Owada / Hideki Ono / organo-rounge / Jun Kitagawa / Kazuhito Sahara / Nightingale / Yuka Nakamura / Daisuke Nagaoka / Hiroko Mashiko / Chikara Matsumoto / Faryn Davis / Keirsten Essepresis / Susan Maddux / Leif Parsons / Julianna Swaney / LINES & SHAPES / Liz Zanis / and others.

Perfomance event by Patrik Soderstam: "The Upper Corner"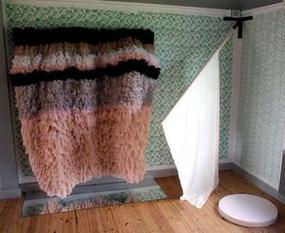 Date:December 12 (Fri) 19:00~21:00
Artist:Patrik Soderstam


Participating Creator